Female Cricket Academy was initiated with an objective of building a platform for young girls to help them showcase their talents, nurture their cricket dreams and make progress in their professional cricket career.
With our first centre in Mumbai at Dadar, Shivaji Park, the academy was inaugurated on 2nd November 2017. In last 3 years, we have trained over 250+ girls. 
Female Cricket Academy has a high quality coaching team dedicated to inspiring women and girls to enjoy cricket at all levels and to take on all challenges both on and off the sporting field.
For more details, call us on +91-7506640006
Here are some frequently asked questions to us. If your question isn't mentioned in the list below, please feel free to call on +91-7506640006 
Location in Mumbai?
We are currently practicing at Shivaji Park, Dadar (W), Mumbai.
Is it only for females?
Yes, absolutely. As the name suggests, we have only female participants at Female Cricket Academy.
Age Criteria?
Girls between the age of 6 to 22 can take admissions and practice at Female Cricket Academy
Summer Camps
We have 2 Month Summer camp from 1st April to 31st May 2022. Enroll Now.
Do the girls get to play matches?
Yes. We do arrange matches for the girls on regular basis.
How to register / join Female Cricket Academy?
It's Simple! You can visit our centres directly, collect the registration form and pay the fees. You can call on +91-7506640006 for details.
If you are a brand / corporate / business / academy owner looking to collaborate with Female Cricket Academy and work in tandem towards our vision of building platforms for young female talents, please do get in touch with us via
email – femalecricketacademy@gmail.com or call on us +91-7506640006 
Our Vision is to provide quality and affordable cricket coaching to girls and nurture their cricket dreams. If you too believe in our vision and want to create a similar impact in the women's cricket ecosystem, please feel free to reach out. 
We believe in team-work and are looking for like-minded partners to associate and work.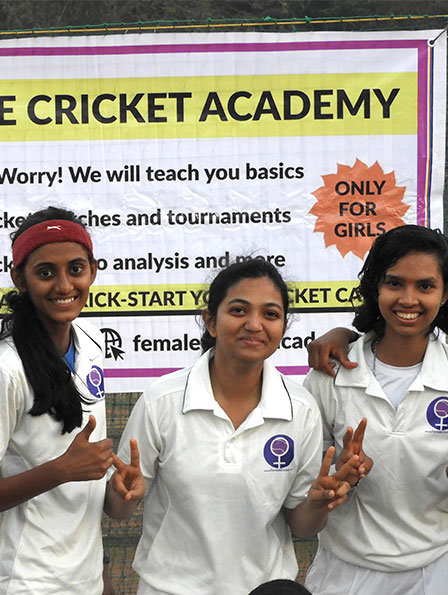 Some Glimpse from Our Journey
Here's what People say about Us!
A blooming platform and best opportunity for all the girls who want to pursue their dreams in cricket. Best academy run by the best people aiming to bring out the best players..!